Aurora Snow: "Reality sells now!"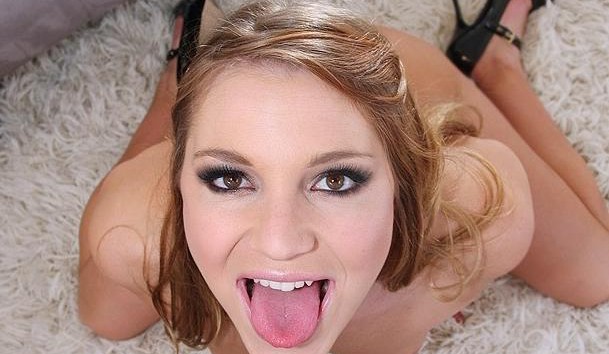 Aurora Snow, prototype of  the next generation of pornstars. She paved the way for girls like Sasha Grey and more recently Jessie Andrews, girls with small tits, lean bodies, cuter than your average girl next door and way beyond the fake boobs / blonde hair bimbo cliché, and yet providing the most extreme performances according to common porn standards. Aurora went from teen in the 00's to MILF in the 10's, within the blick of an eye. Seems like we're all getting old. Expect nothing but sharp and straight-to-the-point answers from Aurora, porn princess of my youth.
You are one of the very few porn stars to support measure B. Why did you choose to stand for it ? 
It was something I felt strongly about. I see Measure B as a way to improve workplace safety,  key idea being "to improve." With the latest syphillis scare not far behind us, there is definitely a need to improve upon our safety standards for performers.
The article you wrote about measure B brought a lot of comments. What did you learn from those reactions ? 
I was surprised by how many adult industry veterans reached out to me privately to say while they may not agree with my views personally, they still respected my opinions. I appreciate that kind of comradery.
In my opinion you open the gates for what I call "the next generation" of pornstars (Sasha Grey, etc). What's your opinion on this new kind of porn actresses ?  
This new kind of porn actress is real. No longer does she represent the glamorous fantasy girl you'll never glimpse in real life, now the fantasy girl is one you might have a chance with, one that might even be living right next door. Reality sells now.
You appeared in "Superbad" as well as some other non-porn flicks. How was your experience with traditional movies ? 
I thoroughly enjoy working on mainstream movie sets. I have worked on a few others not yet released and am scheduled to be on a two month horror movie in 2013. My biggest mainstream role yet.
Do you watch porn and if you do, what are your favorite "tags" ?
I do watch porn from time to time. Lately I have been into #POV style action.
You went from teen to MILF in less than 10 years. How does a 28 year old woman fit in the MILF category ? Is it just a question of acting or do you have to set yourself in a different state of mind ?
It's acting. You are only as old or young as you feel. In porn after you turn a certain age its time to let go of the pigtails and "little girl" themes and move on to more powerful roles… like seducing the new guys.
You started in the early 00's, you are therefore a priviliged witness of the evolution of porn consumption with the outbreak of internet. In France most of porn producers didn't see it coming and had a really hard time at catching up. How did you handle that change in the US ?
I don't think it was all that different in the US. There were a lot of companies struggling to make the leap from DVD to internet. Not all of those companies made it. A lot no longer exist. Even those that did make it had to quickly learn how to compete with the new internet only companies who better understood the new market. Now every company is struggling, trying to figure out how to compete with all the free content online.
One of my all time favorite porn scenes is the one you did with Gauge. To me, you both embody the 00's when it comes to porn perfomance. I recently saw that you took part to a club show together. How did this happen ? 
I love Gauge. She is one of my all time favorites. A dance club in Philly wanted a Gauge & Aurora show for their 10 year anniversary, so they got in touch with a dance agent who in turn put us together and booked the whole thing. It was a lot of fun!
When you look back at your "teen" carreer, is there anything you would have made differently or are you satisfied with it?
Its hard to say what I would have done different. I wish I had been a little smarter in my personal life, those mistakes are everlasting. In terms of my career, I feel very lucky.
A recurring question: What do you listen to these days ? Any artists / musicians you'd like to recommand?
Yes! I listen to a variety… Right now one of my favorite music videos is The Lazy Song by Bruno Mars. As far as artists go,  I am now a huge Katy Perry fan, just watched her recent documentary and it made me really appreciate her in a way I didn't before.  I like Nikki Minaj she's very out there. Garth Brooks is a classic favorite. The GooGoo Dolls are my all time favorite band, since I was in highschool. I listen to a lot of Colt Ford and Randy Houser. You can't go wrong with Mumford and Sons or Florence and the Machine. Eminem is great, he has been doing a lot of collaborations. Pink consistently makes good music. And recently I've discovered Hopsin, he has some pretty interesting lyrics for a rapper.
I listen to it all from country to rap.
Is your nickname a reference to Disney's characters?
Yes, I stole the name "Aurora" from Sleeping Beauty. I have always been mesmerized by all things Disney. Every little girl wishes for a fairytale and I was no different.
 What are you plans? Do you see yourself still in the porn business in the next 5 years ?
In the next 5 yrs… not sure why this question is so tough. Funny really. I am currently figuring out exactly what it is I want to do and as soon as I figure that out I shall pursue it with a quickness.
Have you ever been to France ? What's your opinion on French porn (movies and actors/actresses) ?
No, but I have always wanted to go. Would love to work with a French actress, I find accents irrestible.
Error, group does not exist! Check your syntax! (ID: 23)