True Colors: My Cherry Crush
Par : Ned
3 minutes
Being in Canada during a full winter is like living in a giant snow Bukkakke where the skies stain your pretty face with a fantastic white sticky powder. It's funny at the beginning but it becomes weird with the time because everything around you is immaculate and shiny shit white (with time to time some grey and black blotches). It's so intense that you come to think you are becoming colorblind. Lately in the loneliness of my ice fortress, I fell in a deep color rush (Spring where the fuck are you!) with a Cindy Lauper song in my head. Melancholy was knocking at my door, I had to react! When I think about colors, I've got a mind picture of some vibrant Impressionism painting, with for instance a Claude Monet or a Vincent van Gogh piece. It gives me a heartwarming sensation of a bliss moment where, in the heart of summer, I'm lying down in a fabulous Provence's lavender field. It feels warm, beautiful and peaceful. Somewhere I could sleep forever.
Fapping on a painting is weird. I said I felt lonely in my ice-ice baby fortress, but I won't go that far in my search for pleasure. For girls, when I think about colors, I see some tattooed cuties and colored-hair Emo chicks a la
Suicide Girl
or
Burning Angel
.
This time I didn't have to sail the seas of #Emo Porn for too long, as I simply found my fortune directly on Le Tag Parfait. I would like to thank my French colleague Florence Abitboule for giving birth this new Fap Parfait. Florence, your fine and tasty selection of animated pictures in the weekly post "GIFS OF THE WEEK" raised my interest for a specific girl: Cherry Crush. She could help with my color rush.
Florence, to your question: "WHO THE FUCK GETS HARD WATCHING AN APPLE GREEN WIG?". The answer is: ME! (sorry).
I must say, Cherry Crush wasn't unknown to me. But within the fierce competition there's in my brain to remind all the faces of Porn I like, this particular girl sadly felt in my libidinous oubliette. Cherry, I won't make the same mistake again! Cross my heart (and hope to die!). Cherry is 23 years old, apparently she had a Myspace fame, she lives in Florida and she is working now as an independent Porn model. Most of the Cherry's video are pure POV and the most amazing thing about this girl resides for me in her strange beauty. She's a stunning cocktail of: uncommon face, fascinating eyes, cool Manga-Kawai world, crazy butt and intense glance. She is reminding me the actress Tanya Raymonde. Cherry is also renowned for her fabulous intense BJ style and her taste for dildos.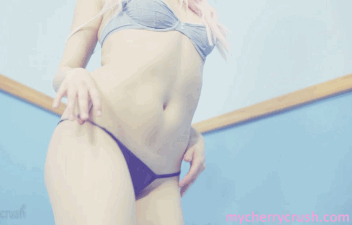 As any good modern charm model, she has a
website
, a 
cam show on Chaturbate
, a
Tumblr
, a
Twitter
, a
Facebook
, an
Instagram
and even a board on Reddit  
/r/MyCherryCrush
. So now, you have no excuse to miss something from her… At Le Tag Parfait we love blowing sparkles in your face. And this, even if it can be dangerous for your eyes. So here we go with 2 adorable videos of  
My Cherry Crush
. Enjoy and embrace the the colors!
Video courtesy of Pornhub:
Tags: #Amateur, #Blowjob, #Teen, #Cumshot Grade: 100% (90 votes) Best Comment: N/A Tags: #Babe, #Anal, #POV, #Pornstar Grade: 93% (375 votes) Best Comment: This video is perfect, I see nothing wrong with it, only the luckiest guy alive and the most beautiful girls ever, perfect legs, perfect boobs, perfect ass, perfect pussy, perfect shots, perfect positions, I rate this 10/10 Once again, we prepared you more Cherry Crush content in our special Pornhub's playlist below:
Error, group does not exist! Check your syntax! (ID: 23)