Chloe Lewis: "I like to draw out the pleasure and save the best for last"
In a few months, Chloe Lewis conquered the heart of a hundreds of thousands of Chaturbate's users. She also knocked out a part of Le Tag Parfait with her high quality liveshows. The young Quebecker has just take a break to work on her new project, which allow her to take back the entire control of the broadcasting. Between two lines of code and before to launch Chloe TV, she answered our questions.
When did you start camming, and why?
I was first exposed to live sex chat during a summer internship. A summer internship in Montreal, in a small office affiliated with the big, famous American Silicon Valley startups that we all know. I worked surrounded by males who were a bit macho and proud of their work. The working culture that had arisen couldn't have been funnier. To catch a breather in between lines of code, the guys were switching to a live sex chat window that they kept open in the background. I was soon to discover the name of this phenomenon: camming.
I was uncomfortable, even a little angry. How could this be allowed at work? I was curious, but too shy to watch it myself in public. So it was one quiet evening at home that I discovered the world of cams.

Internship is over, I'm heading back to school. Soon afterwards my boyfriend and I break up, and one night I find myself watching Blazefyre on the cam site Chaturbate. She's smiling, chatting a lot with people, and coming across as sexy without being obscene. I'm seduced.

Broken up inside from being dumped by my boyfriend, with whom I'd just lost my virginity, I want to be in sexual ecstasy like Blazefyre, and to feel less alone.

My sexual curiosity is growing. One night in my room, sitting on my bed…
"Click."
There I am, naked in front of my MacBook Air. At my side is a vibrator purchased from the local drugstore, too shy to go into a sex shop.

From the very first night it's wonderful. Completely boundless amusement. People come see me, talk, and suggest things to do with my body. 

I'm hooked.

Whenever I'm bored, I open my MacBook, and in a single "click" I'm laughing and dancing, often naked, in my room.
Do your friends or family know that you do this?
Some friends know, but my family has no idea. 
"Hello Papa, Mama! If you're reading this, I'll explain everything tonight over the phone." 
For the moment, I prefer to keep these activities to myself. I have two brothers, and I dread the thought of them finding out. Will they come watch me?
How did your first shows go?
I was shy. Shy about getting naked and speaking English. People were able to put me at ease quickly. They even convinced me to go into a sex shop to buy a new toy for the next day.  
I was surprised by the attention I received; actually, I still am.
I have to say that my feelings haven't changed since. It's always a new adventure. I still have the same shyness I had then, and the same desire to explore my sexuality.
To tell the truth, I've only been with one guy in my life. I have very little experience, and each time I'm on camera, I explore something new.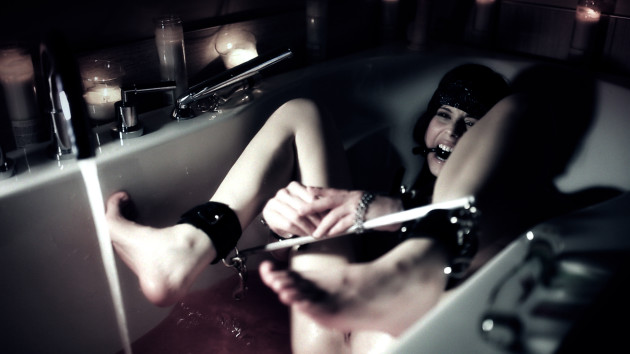 There are people who leave you enormous tips, how do you react? What's your relationship with your biggest tippers?
I am very shy. I have received a lot of tips, to the point where I didn't know what to do. So I decided to invest all these tips into production. It's my own personal way of giving back everything I receive. 
So I bought a new MacBook Pro, a Canon 5D Mark III with 35mm and 24mm cine lenses. Then LED studio lights, and other professional equipment to improve the production. I even bought a fog machine to play with.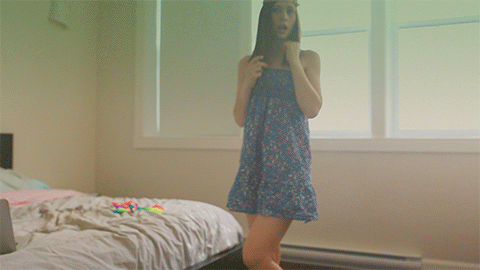 My closest supporters made a secret group called "Legends". It's a group of people I spend several hours with every day. But as it's secret, I can't say any more about it. 
Several of them are not financial supporters. They are all remarkable people who have earned an important place in my life. 
You repeat that you are very shy, but that doesn't come across in person. What is your relationship with the camera like? Is it having an audience that makes you go wild, and allows you to reveal yourself?
When you watch my shows, you quickly realize that the tempo is different from what you'd expect. My naked body is precious, and you have to know how to put me at ease before I'll show it off. I'm also a big fan of the hand-bra. They say that I'm a "tease." It's mostly because I'm shy. It's my personality. 

I am able to overcome my embarrassment thanks to fear. When I find myself afraid of something, I face it. It reminds me of one time during a show when someone suggested that I do anal with a glass dildo. I tried to do it and then… It hurt a lot and I started to cry like a baby. 

My relationship with the camera is authentic. It's contact with people, it's friends… how was your day at work? I'm seeking people's admiration. I take pleasure in sparking sexual desire, so that then I can fulfill it. 

For me it's never "What can I do to get his tokens" but instead "What can I do to see him smile". I like to give, and to make the people around me happy. Tokens should always be a sign of appreciation. They shouldn't be demanded, but rather given out of affection. I've always found the whole "tip 100 tokens to see my breasts" thing a bit sad. It's too transactional, it's not authentic.
One of our writers classified your shows as webcam x-art, in reference to glamcore porn. Do you think that's a fitting term?
I am not a fan of labels. They interfere with my creativity and prevent it from running loose. That said, I really like the type of porn that's more artistic, more teasing.

I like taking my time. At the table, I'm going to eat all my side dishes before touching the pièce de résistance. I like to draw out the pleasure and save the best for last. 

Similarly, I like revealing myself slowly, gently. It has to be earned. I also want to recreate certain atmospheres with the help of music, lights, and other techniques like depth of field. I guess I'm a romantic?
Why are you launching Chloe TV? What is going to be the difference with other platforms?
You have to first know that I'm a coder. When I'm not in front of the camera, I work on making iOS apps and now web apps. I've also maintained a good relationship with the people who work where I did my summer internship last year.
I often experience technical difficulties during my shows. These problems are linked to the high definition stream I'm broadcasting, and the low capacity that cam sites like Chaturbate are offering. 
The sound often cuts out, and video frames are missing, which makes it jerky and unreliable. The chatroom has problems too. A disappointing user experience that I could not improve.
Contact with people, the atmosphere, and the quality of my production are more important than receiving tokens. So I left Chaturbate, and coded an alternative in a few days, which I hosted on my site called Chloe TV.
After a month of broadcasting on Chloe TV, I had to stop because of the costs that came with the shows' popularity. It was impossible for me alone to pay the bandwidth and the servers. There was no system for tokens.
So I took a few months to develop a viable alternative that supports tokens, and everything you could expect from a cam site. My return to broadcasting, and the launch of Chloe TV, is not far off.
Is Chloe TV open to other girls (and guys)? Is there a lot of demand?
Chloe TV will be open to girls and couples by invitation only. Some curation is necessary at the beginning, to set the tone right of what will be our new community. 
I am listening to the models and the people who support them to clearly understand how I can improve the experience. About a hundred people have contacted me; so many that I had to set up a small team to respond to the demand. 
Do you watch other camgirls or camboys, to inspire you or just for pleasure?
I always have a peek in between lines of code. It's now a deviance of mine, thanks to my internship last year. *laughs*
It goes without saying that I have a weakness for some girls who I watch for pure pleasure. Some of them will also be joining me on Chloe TV. I haven't made the official announcement yet, but you might get an idea of who they are by looking at who I follow on my Twitter account, @ChloeTelevision.
Error, group does not exist! Check your syntax! (ID: 23)