UK Pornwall: BT's Turn
Par : Ned
2 minutes
David Cameron's battle for online child protection continues to make its path in UK. After the two major internet service providers: Talk-Talk and Sky; it's time for BT (British Telecom) to enable a filter aim to cut the access to legal pornography and other unsuitable subjects for children. It's a kind of new age "Parental Control" service and BT spokesman explains:
New customers will have to make a choice on whether or not to activate the parental controls when setting up their internet connection for the first time", but adds that "the option of having the controls implemented is pre-selected". You'll either have to confirm that you're happy with the pre-selected protection level, or actively choose to change the settings, which BT is keen to remind you might expose you to "content potentially unsuitable for children"
Existing customers will be contacted and asked if they want to implement the filter or not.
We can note that the vast majority of the UK public WiFi accesses are already filtered. Last month, Google and Microsoft announced that 100,000 search terms would now return no results and some new introduced algorithms will stop the auto-complete search ability on unsuitable or abusive search terms.
Will internet providers enable the filter only with keywords and banned websites? How Porn website could bypass the filter? How users will do to get around the filter?
Let's say you are a 16 y.o teenager and you want to watch Porn but your Internet is filtered. I'm sure with today's young people basic technical understanding, you will be able to find pretty much anything you want. UK techs-nerds will be rock-stars in the school yards. It was about time!
About child-pornography, we know that most of the criminal are not using the conventional "open-web" network protocols to share their content. So, is UK fighting on the wrong battlefield? Is the hunt of paedophiles becoming an excuse to get more control? Plus, how a Porn filter could  potentially point to paedophiles and stop them to abuse children? I'd like to understand this last point…
What would be the consequence of opting for a turned-off filter? In a country where CCTV is the new Queen, we may think it could be monitored…
It looks like the Cameron's initiative is aim to go further than a simple "pornwall" and the filter could touch other subjects with the following pre-ticked blocking options:
(1) Screen one

"Parental controls"
Do you want to install / enable parental controls
☑ yes
☐ no

[next]

(2) Screen two [if you have left the box ticked]

"Parental controls"

Do you want to block

☑ pornography
☑ violent material
☑ extremist and terrorist related content
☑ anorexia and eating disorder websites
☑ suicide related websites
☑ alcohol
☑ smoking
☑ web forums
☑ esoteric material
☑ web blocking circumvention tools

You can opt back in at any time

[continue]
Call it whatever you want, it is control/censorship. It looks suspicious, we tend to go in some further step against the Net neutrality and we assist to a real 
loss of freedom
.   But the most important question remains: What will Sun's page 3 become in the near future?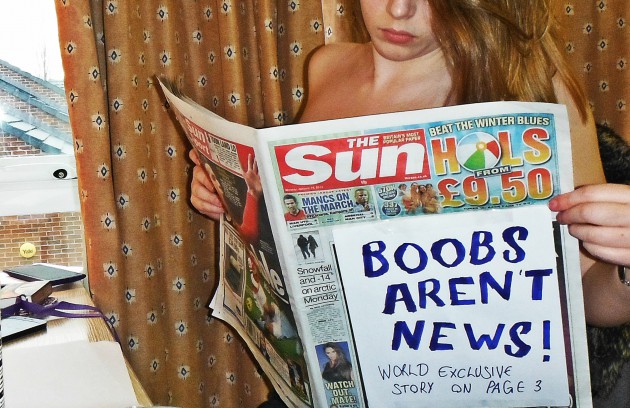 Error, group does not exist! Check your syntax! (ID: 23)